Home
Welkom in de Wereld van Webdesign!
De Webdesign Kennisbank is dé bron van informatie voor zowel jong en oud, beginners en gevorderden, bestemd voor hobby, studie en/of beroep! Het vakjargon Webdesign is meer dan ooit tevoren, een populair en een veelzijdig fenomeen op het internet!
Een dynamisch en veel omvattend begrip, dat zeker de moeite waard is eens nader onder de loep te nemen. Dat is ook waarom deze website als kennisbank en educatieve wegwijzer op één webadres te vinden is.
Sinds kort heeft de Webdesign Kennisbank veel nieuwe bezoekers mogen verwelkomen via internationale blogs en websites met dezelfde 'niche' (deelmarkt). Dat komt doordat mijn artikelen over Webdesign vooral internationaal worden gewaardeerd en zo elders worden gedeeld.
Laat je ook door Webdesign Kennisbank een overzichtelijk en begrijpelijk beeld over Webdesign geven. Voor een compleet beeld, staan er op deze website nog drie extra pagina's online:
Internet Marketing | Links | Cees Spelt
---
Jouw Webdesign Startpunt!
Begin hier in dé Kennisbank over Webdesign op deze fraaie website, bedoeld als Educatieve Webdesign Wegwijzer. Deze bron aan informatie wordt continu aangevuld en verbeterd. Bovendien kun je onder de daarvoor bestemde pagina's, hoogst persoonlijk een reactie achterlaten.
Misschien heb je een vraag of (aanvullende) informatie? Laat het dan achter aan de onderzijde van deze pagina. Je e-mailadres blijft buiten het zicht van de bezoekers. Kortom vindt hier alles over Webdesign!
Hieronder staan de meest relevante categorieën over Webdesign. Een aantal van deze categorieën zijn onderverdeeld in subcategorieën…
Startpunt »
Zie ook deze Categoriën in de Kennisbank over Webdesign:
Een Website Ontwerpen
Het ontwerp van een website moet ervoor zorgen dat een bezoeker vanuit zijn of haar eigen intuïtie, uitkomt bij de informatie die de persoon zoekt. Tevens is het van belang een website met een goede en passende uitstraling te ontwerpen.
Het ontwikkelen van een nieuwe website vraagt niet alleen een gevoel voor ontwerpen, maar vooral kennis van de psychologie. Welk ontwerp werkt het beste en dringt écht diep door in het brein van de bezoeker?
Daarom is het verstandig om de spel/stijlregels van een ontwerp, voor zover mogelijk alvast van te voren vast te leggen. Dit eventueel in overleg… Lees Meer »
---
Wat is een CMS?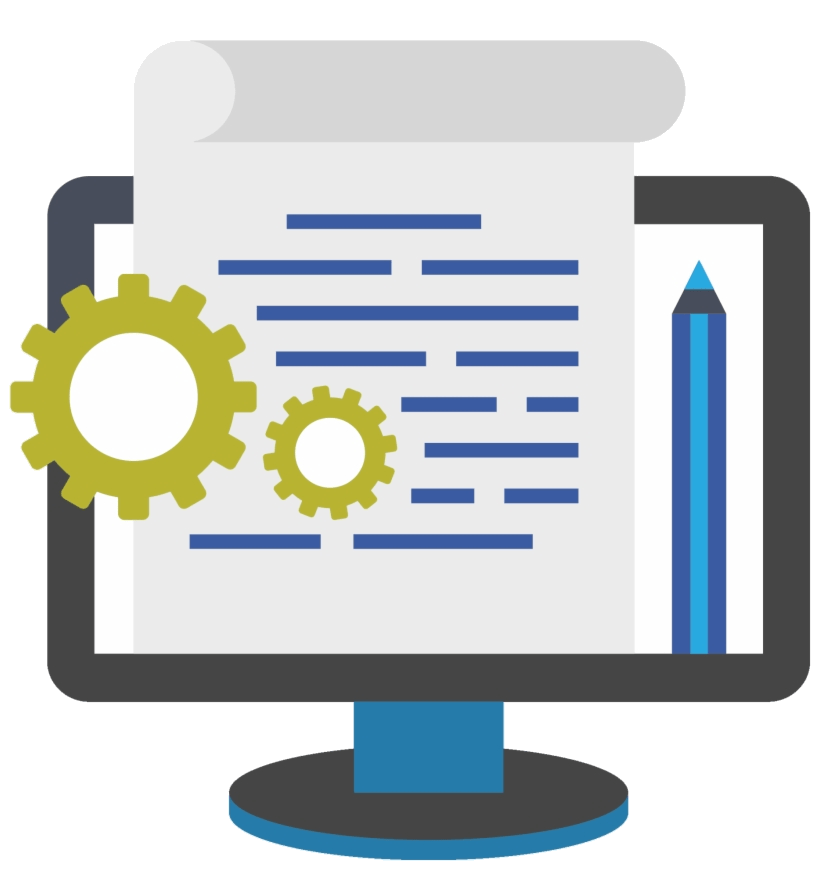 De afkorting CMS staat voor: Content Management System en wordt veelal gebruikt als het systeem achter een website. Het stelt (bijna) iedereen in staat om een website op een eenvoudige wijze te onderhouden en beheren.
Bovendien hoef je voor een dergelijk systeem, niet of nauwelijks kennis te hebben van HTML. Voor Webdesigners is enige kennis van HTML wel van belang, omdat het altijd van pas komt bij het ontwerpen.
Om je met de HTML-codes extra te laten helpen, kun je naast een CMS handig en productief gebruik maken van één van de vele de HTML-Editors… Lees Meer »
---
Wat is HTML?
HTML staat voor: Hyper Text Markup Language. Het is oorspronkelijk bedoeld om met hypertekst en Hyperlinks, het totale globale netwerk te ondersteunen. Dat betekend dat documenten en bestanden verbonden zijn met snelkoppelingen.
Daarnaast is het een opmaaktaal voor Webdesign zoals vele andere, voor het benadrukken van de uitvoering op een website. Door een website met diverse Webbrowsers te gaan vergelijken, kan het ontwerp van een website worden getest.
Dit om uiteindelijk een website af te leveren, dat door de verschillende Webbrowsers juist wordt geïnterpreteerd… Lees Meer »
---
Wat is PHP?
PHP wordt veel gebruikt om op webservers dynamische webpagina's te creëren. De code van de pagina wordt op de webserver uitgevoerd en het resultaat wordt naar de computer van de bezoeker gestuurd. Waarna de pagina in de webbrowser getoond wordt.
Aanvankelijk stonden de letters PHP voor Personal Home Page oftewel; Hypertext Preprocessor. Deze naam geeft aan waar de taal meestal voor gebruikt wordt; informatie verwerken tot hypertext (meestal HyperText Markup Language (HTML) en Extensible HyperText Markup Language (XHTML)… Lees Meer »
---
Wat is CSS?
De afkorting CSS staat voor; Cascading Style Sheets en is een extra document dat opgenomen is binnen een website, met talrijke functionele eigenschappen. Speciaal uitgevonden om de vele opmaakstijlen, vanuit één CSS-document, gemakkelijk en compleet aan te duiden.
Deze stijlen bestaan uit o.a. letterkleur, letterfamilie, achtergrond, tabellen, afbeeldingen, hyperlinks enz. Het programma zorgt er bovendien voor, dat er minder opmaaktaal in een website wordt aangemaakt. Dankzij een CSS kan de vormgeving van elk element op een webpagina… Lees Meer »
---
Wat is JavaScript?
JavaScript is een programmeertaal dat veel gebruikt wordt om webpagina's interactief te maken. Het is de programmeertaal die het meest gebruikt wordt, om zogeheten dynamische webpagina's mee te publiceren.
Een stukje van zo'n scripttaal bestaat uit een aantal opdrachten die de webbrowser uitvoert. De webbrowser ontvangt dan vervolgens deze opdrachten, zodra de HTML-pagina wordt geladen.
JavaScript wordt middels speciale voorzieningen in de HTML-code (het script-element), in een webpagina opgenomen. Dit is op twee manieren mogelijk… Lees Meer »
---
Wat is SEO?
De afkorting SEO staat voor; Search Engine Optimalisation, of in het Nederlands: Zoekmachine Optimalisatie. Dit bestaat uit verschillende onderdelen, die worden gevormd door de inhoud en de technische constructie van een website.
Wil je meer bezoekers naar je website genereren via zoekmachines, zonder te adverteren? Dan zal je met SEO aan de slag moeten. Door het gebruik van SEO kun je meer organische bezoekers realiseren.
Om te weten hoe SEO werkt, staan in dit artikel verschillende technieken beschreven voor een SEO geoptimaliseerde website… Lees Meer »
---
Weergeven van Websites
Webbrowsers zijn vooral ontwikkeld om websites, vanuit de oorspronkelijke bronpagina's, in een begrijpelijke en leesbare vorm op het beeldscherm weer te geven.
De meeste browser-installaties geven zo een webpagina weer via een beeldscherm oftewel monitor. Tegelijkertijd kan er ook geluid via speakers en/of hoofdtelefoon worden gegenereerd… Lees Meer »
---
Waarom Beveiligen?
Website Beveiliging is tegenwoordig een belangrijk thema binnen Webdesign, omdat de consequenties van een slecht beveiligde website behoorlijk groot kunnen zijn voor alle betrokkenen.
Ook al denk je er misschien niet direct aan als je net een website gebouwd hebt, maar een website moet je wel goed beveiligen. Niet alleen voor jezelf, maar zeker ook voor je bezoekers.
Website Beveiliging van websites, wordt nog vaak ten onrechte onderschat door Webdesigners. Vaak denkt men; "Dat zal mij niet overkomen… Lees Meer »
Overige Pagina's | Webdesign Kennisbank
Verschillende Vakgebieden
Webdesign en Internet Marketing zijn 2 verschillende vakgebieden, die toch opmerkelijk veel met elkaar verweven zijn. Vandaar dat in deze Educatieve Webdesign Wegwijzer, ook extra aandacht aan wordt besteed.
Al is het slechts om je er eventueel alvast op voor te bereiden en je te voorzien van belangrijke webadressen, waar je vooral veel van kunt leren. Internet Marketing is de manier om via het internet, producten te verkopen.
De laatste jaren is reclame en marketing via het internet uitgegroeid tot de grootste reclamemarkt. Twee belangrijke pijlers van de hedendaagse… Lees Meer »
---
Even Voorstellen…
Mijn naam is Cees Spelt 🧐 en een aantal jaren geleden ben ik mij in het maken van websites gaan bekwamen. Met Cornelis Webdesign 🎨 (NonProfit) heb ik toen mijn eerste website gepubliceerd. Dit omdat ik graag actief wil(de) zijn als webdesigner.
Daaruit voortvloeiend is de Webdesign Kennisbank 🎓 ontstaan, als mijn eigen platform. Bezoek ook mijn persoonlijke Facebook-pagina en doe mee met mijn netwerk van bijna 5000 Facebook-leden! Lees Meer »